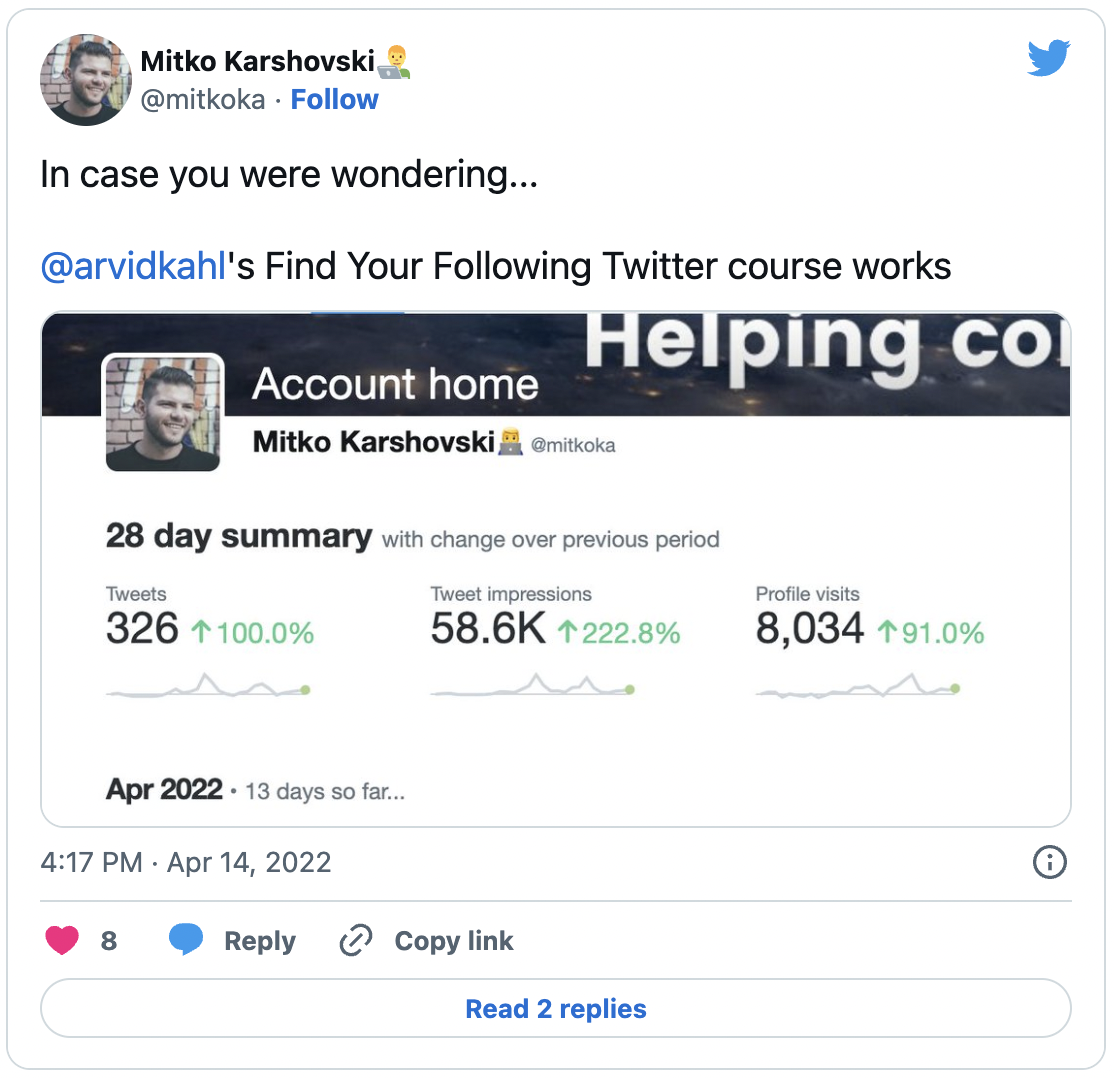 Available now
Find your Following
a Twitter blueprint by Arvid Kahl
Grow an authentic Twitter presence with intentional relationships and a following that trusts and respects you.
I built an audience of over 100.000 on Twitter. You can, too.
No "growth hacks." Just honest, actionable, and repeatable frameworks for relationship-building and engagement.
What's in it for you
A Twitter masterclass bursting with hands-on knowledge
If you want to use Twitter professionally to build a personal brand, this guide is for you.
Shortcut Your Twitter Success by 6 Months
I've made all the mistakes on my own journey already. You won't need to make them yourself. Hit the ground running. Immediately apply actionable insights.
Experienced Instructor
I'm an active Twitter user with over 110.000 engaged and supportive followers. I know what I'm talking about
Learn from Other Audience-Builders
Purchasing the course gives you access to a community of supportive peers, with helpful resources and responsive contributors.
Ready-to-use Templates
The course comes with a knowledge base of dozens of Tweet templates, tools, cheat-sheets, and resource recommendations.
High-Impact Exercises in Every Lesson
This is a pragmatic course, not a lecture. You'll have the opportunity to apply your learnings immediately.
Real-World Examples from the Pros
You learn best from watching the experts. You'll find great examples of high-impact tweets and how you can write them yourself.
A free sample lesson
Find the Right People to Engage
This sample lesson comes straight from the "How" lesson of the course, which is all about engagement. You will learn how to quickly find the right people to follow so you can engage with them and their audiences.
Pricing
Quickstart or deep dive? You decide!
Jumpstart your Twitter journey or learn everything about using Twitter professionally, I got you covered.
Find your Following Essentials
FREE
The 7-day Twitter crash course to get started
Covers Twitter fundamentals

Less than 15min per day for a week

50 compact and high-density videos, just an hour overall
Find your Following Full Course
$50
The 4-hour deep dive for serious Twitter users
Find your Following Essentials included

Covers Twitter fundamentals and Building in Public, value discovery, Tweet templates & checklists, business idea discovery

Strong focus on mental health and staying authentic

Hands-on exercises that immediately impact your following

Additional course materials in Notion, ready to clone

Audience-builder community access

An engaging HD video lecture you'll finish in a single afternoon (+ the Essentials videos)
Table of Contents
Here is what you will find in the video lessons — in broad strokes.
Sections marked with the symbol contain exercises, templates, and other interactive components.
The Contents of Find your Following Essentials [01:05:09]

Seven Topics, one for each day of the week:

Day One: Engagement & Relationships
Day Two: Follows & Followers
Day Three: Content Creation & Professional Tweeting
Day Four: Potential Risks & Common Misconceptions
Day Five: Preparation, Operations & Time Management
Day Six: Fundamentals & Frameworks
Day Seven: Mistakes & Other Things to Avoid

---

The Contents of Find your Following (the full course) [04:20:22]

The "Why" of Finding your Following

Explore the core values to build your personal brand around
What is valuable to your future followers?
How to bridge the gap: intentional audience-building fundamentals

The "How" of Finding your Following

The Twitter Follow Funnel: from first contact to a long-term relationship
How to follow the right people to jumpstart your following
Engagement, Empowerment, and Valuable Content: what to do and when for maximum effect
Optimizing your Twitter profile: crafting an irresistible bio, top to bottom
Building reputation and credibility
Using professional Twitter tools to automate your experience (and stay sane)
Finding and exploring business opportunities on Twitter
Measuring Twitter growth — the right way

The "What" of Finding your Following

Building in Public isn't just for businesses: you can build anything in public
Building in Public fundamentals: opportunities and methods
People who build in public successfully — and how they do it
What to tweet when building in public: examples, templates, and frameworks
The risks and limitations of Building in Public
Golden Rules for Tweets, threads, polls, Spaces, and more…

What If?

Answers to questions like:

What if my Tweets get little to no engagement?
What if I get attacked?
What if my account gets blocked?
What if there's no real audience for my topics on Twitter?
What if I bring in an audience I didn't intend?
Even with my 10+ years of experience in social, Arvid's class taught me just how unique building a personal brand on Twitter is and I learned a ton that I can't wait to start implementing!

The course was clear, well-organized, engaging, and the visuals and activities were especially helpful.
Those who have little experience on Twitter are the ones who will get the most of this course. They will get a plethora of ideas and strategies that will change how they perceive and use Twitter.

I believe that established Twitter users, such as myself, would find the course valuable. You won't have the same experience but would learn enough to justify the course price.
Frequently Asked Questions
Who is this for?

No matter if you're just getting started or have been growing a following on Twitter for a while, you will find value in this course. As long as you're willing to engage with people, you will succeed.

Is this course just about Twitter?

Yes. While you can apply many of the techniques I teach in this course to other social media platforms, this course is exclusively about Twitter.

Why Twitter?

Twitter is a sandbox. Everyone can talk to everyone else, and this creates enormous potential for your ideas to reach the right people. Twitter is the megaphone you never knew you had.

Isn't Twitter full of vitriol and sh*tstorms? How can anyone be authentic there?

Twitter is many things to many people. Who you surround yourself with will impact your experience. In this course, you'll learn how to find the right people to follow and how to stay away from the wrong ones.

How quickly will I build my following?

I won't promise you the impossible. A loyal following takes time to build, most likely several months. The tools and techniques I will teach you will allow you to tackle reaching this goal strategically and reliably.

Will you share growth hacks?

No. I'm not a fan of growth hacks, and the course will introduce you to much better and more reliable strategies and tactics that don't involve hacking people — but actually treating them like human beings.
Don't have time for a 4-hour course?
How about 15min/day for a week?
Check out Find your Following Essentials, the 7-day Twitter crash course that will get you up to speed with videos and high-impact tips in less than 15 minutes a day.
You'll learn how to use Twitter professionally in 50 short videos. For every topic, you'll also find a personal insight I've never shared anywhere before.
Searchable. Well-organized. To-the-point.
Get Essentials on Gumroad
for free
The Find your Following Essentials are part of the Find your Following course on Gumroad. You can get them seperately for free or as part of the paid course.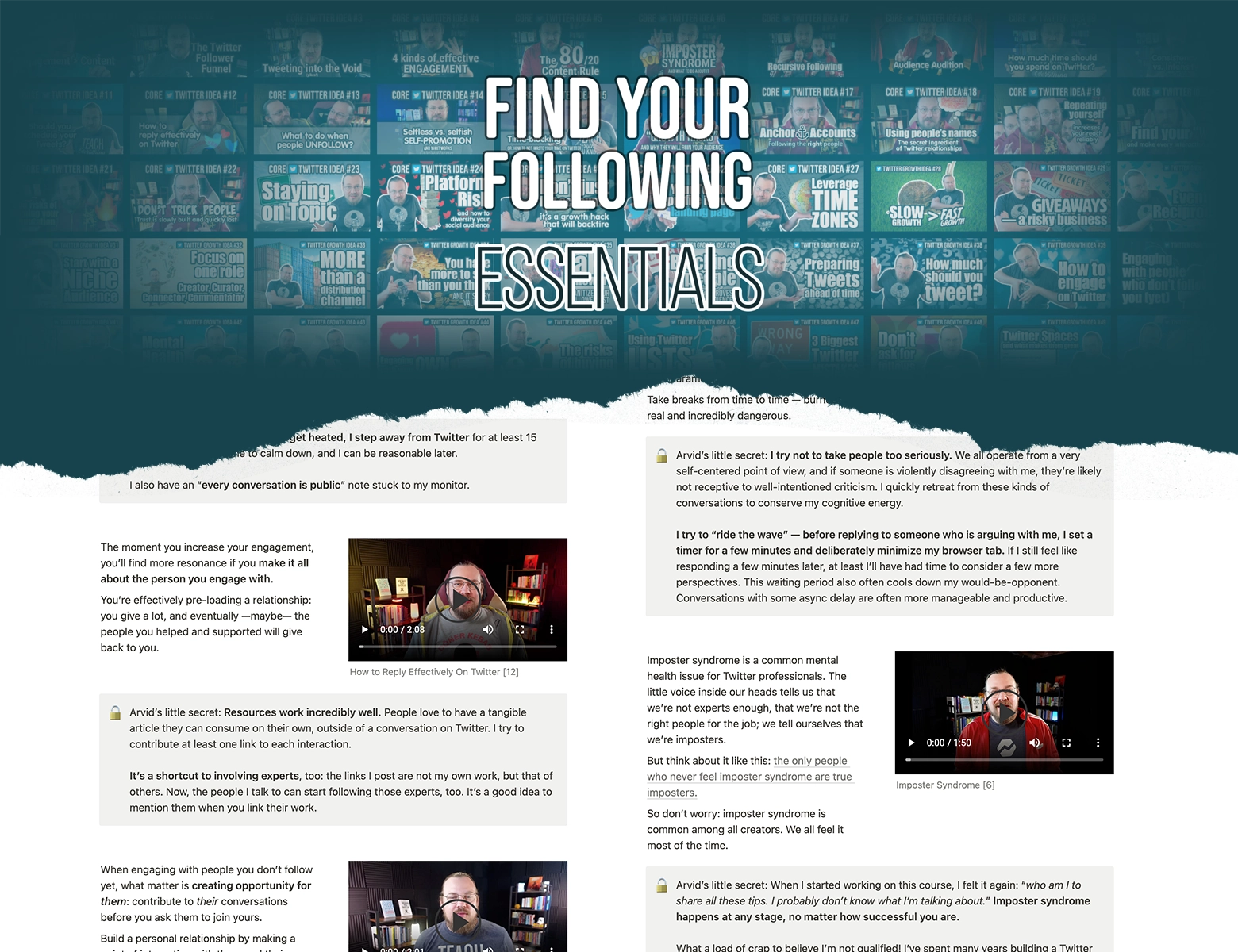 Ready to dive in?
Start learning today.
Can't afford this course? This course supports Purchasing Power Parity Pricing. If you visit this page from a supported country, you will see a banner on top of your screen with a coupon code. If you don't see that or have any reason to think you should get a discount, reach out to me via email and let me know.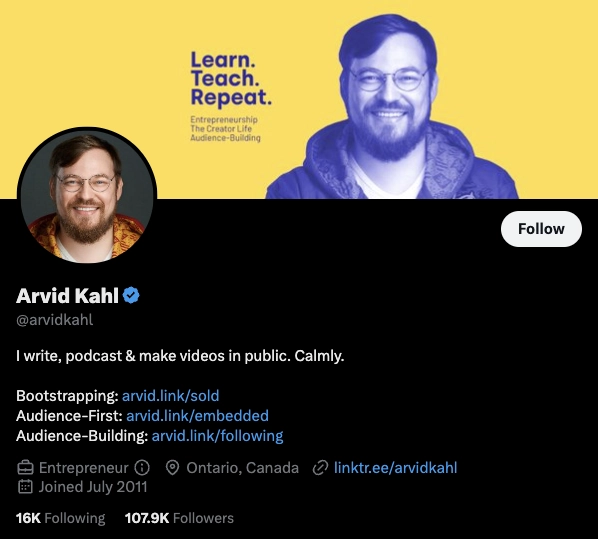 More about Arvid Kahl
I've been growing a following on Twitter intentionally for years. Showing kindness, supporting entrepreneurs, and celebrating my community is my mission.
I wrote two best-selling books on entrepreneurship: Zero to Sold and The Embedded Entrepreneur — and I wrote them in public, using the frameworks introduced in this course. In fact, I even built this course in public!
When it comes to Twitter experience, you'll find that after over 42.000 tweets —and you'll find a spreadsheet of all of them in the course materials, with engagement metrics— I've learned a thing or two about writing engaging content.
Followers

100k+

Enjoying Twitter

100%

Tweets

46k+